Semi-formal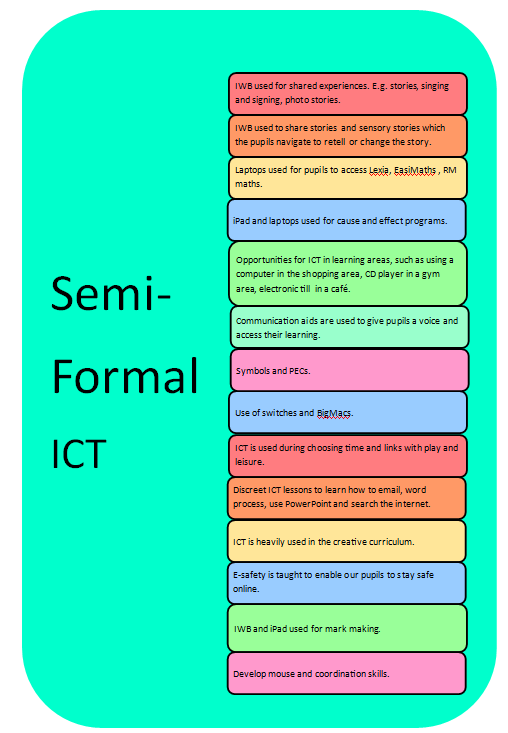 ICT in a Semi Formal classroom
Lower School
ICT is an integral part of learning in Lower School. Students with AAC devices are encouraged to use these throughout the day to support their communication and learning. Students are supported and encouraged to make choices on their communication device, e.g. making decisions to inform their learning and during an outing using a communication device to make an order at a café.
Computers and iPads are used for student activities, such as, switch it jigsaw, pop videos, choose and
Tell, story time and Education City for number rhymes and games. We also use the IWB during group
sessions to promote turn taking and attention. Some students access Lexia on laptops or computers.
We use different types of technology, for example, torches, fans or wind machines to add impact during group sessions e.g. during a number session students press the button to switch on the fan at an appropriate time. Switch technology such as Big Mack or recordable sound button devices and other sensory technology are used during drama and sensory story sessions.
Other technology such as microphones to encourage speaking and listening, keyboards for independent play, remote control cars (very popular!) are always utilised during sessions especially for choosing time where children are allowed free choice play and learning time within the classroom. Again, these range of activities encourage turn taking, social play, communication, problem solving and independent skills